It's Content Inventory Time: Your Guide to Conducting a Long Overdue Content Audit
Large websites tend to grow messy and inefficient over time. Outdated or low-quality quality content rarely gets any visibility and not only adds bloat to your site, but negatively affects your UX and SEO success.
Your site may contain hundreds of pages that don't get any visits. Common culprits include blog posts, landing pages, event notices, white papers, and more. Low-performance URLs bog down your site and produce the opposite effect of what you're aiming for.
So, if you haven't done it before, it's time to conduct a content audit to identify these ghost town pages, and then, revise or remove them.
What's a content audit?
A content audit is a process that takes inventory of your content followed by a strategic review. The steps include:
Taking inventory of all URLs and organizing them for review
Conducting an in-depth audit to review of all content performance
Actionable strategies to make the necessary improvements
The content audit will uncover:
Content that doesn't perform
Out of date content (often lacks current branding)
Duplicate content (not canonicalized or "no-followed")
Pages with a poor user experience and a high bounce rate
High-quality content that's not easily discoverable
Conversion issues such as no calls-to-action
Inconsistent messaging from siloed teams
Technical issues that hinder search visibility such as:

Multiple redirect 301 chains
Slow-loading pages
Poor titles and descriptions
Pages with no inbound links
→ Download Content Inventory Sample
"Ever wonder how many outdated clothing items you have at the back of your closet? You'll never know unless you take inventory. The same holds true for your marketing content. We're good at producing content, but not as good ensuring that content is still useful for our target audience. The white paper you created four years ago may still be sitting on your website, even though a newer white paper is far more relevant. A content audit helps you surface old or irrelevant assets that should be retired. Without it, the outdated assets are still indexed by search engines and can be found and downloaded by potential customers."
Dennis Shiao
Conduct your 1st content audit. Get a leaner, more strategic website that will increase conversions. #totheweb #contentaudit
Click To Tweet
Is a content audit worth it?
The process of conducting a useful content inventory or audit is far from free. It's time-consuming and involves multiple stakeholders. Depending on the size of your site, it may take months to complete.
However, the rewards are big. A leaner, more strategic website populated with high-demand content delivers the experience users seek and likely, the increase in conversion you desire.
So, the answer is yes, a content audit is worth investing resources in, if you aim to:
Refocus on creating high-value content aligned with your customers' needs
Identify visitor trends—and content gaps—to improve content strategy
Provide better structure for your website to present the most relevant content at the right stage of the customer journey
Identify the content that performs best (and is worthy of repurposing)
Establish a governance program to establish best practices for messaging, branding and content review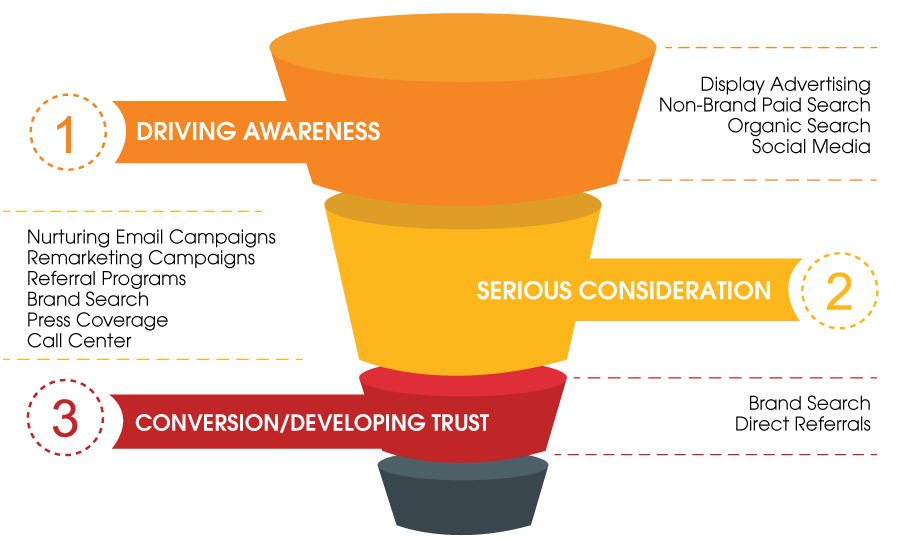 A content audit reveals missed opportunities at the top, middle and bottom of the funnel that represents your customer's journey.
"While there are lots of great reasons to audit your content–improved content quality, efficiency, and efficacy–a full-scale audit only delivers value if it's the second step in a three-step process," says Rich Schwerin, Senior Content Strategist at Autodesk. "First, gather and consolidate a complete inventory of all your customer-facing content to better understand what you have. Second, audit the performance of that content against both quantitative and qualitative data that you deem critical given your audience and objectives. And third, after you analyze results and assess performance, it's time to take action through a keep-revise-delete exercise. If it doesn't spark audience joy, revise it or be rid of it."
Rich Schwerin, Senior Content Strategist at Autodesk.
View the Content Audit presentation here.
Get measurable results from your content audit.
Digital marketing is a digital game, meaning, nearly everything's measurable, including:
Pipeline sales opportunities
Event and goal conversions
Visits to high-value sales pages
Organic search rankings
Keywords insights
Bounce rates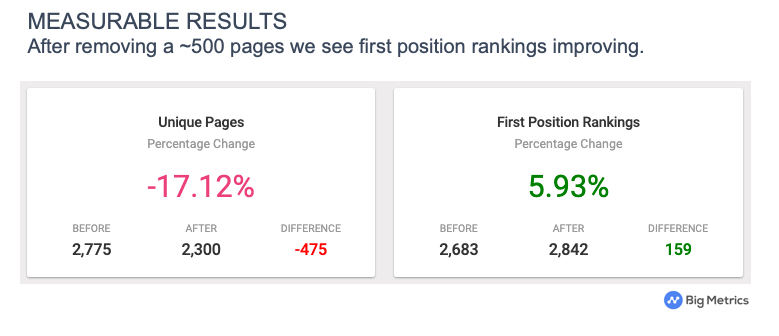 This before-and-after snapshot is a great example of measurable results. Look closely and you'll see trimming 475 low-performance pages from this website resulted in an increase in first position rankings of nearly 6%.
→ Don't have the time to run an audit? Check out our content audit services.
Of course, your content audit may also deliver results that are meaningful but less quantifiable, including:
Brand uplift
Important insights for content creation
Data needed to produce a site governance document for marketers, content producers, and webmasters
When should you conduct a website audit?
You should always conduct an audit before a website relaunch or site migration and if no such projects are taking place, at minimum, conduct one at least every year or two.
You might also consider a more regimented effort to better manage resources. That is, when a full-site audit concludes, perform "rolling audits" to analyze performance on a section-by-section basis throughout the year.
Your audits get progressively easier as you develop governance policies and establish KPIs and benchmarks. The teams learn new ways to measure content success.
Also, each content audit should be followed by a technical SEO audit to catch other issues such as problems with mobile devices, indexing, page speed, etc.
Who should be on the audit team?
After getting buy-in from stockholders and budget approval, the following people should be involved:
Audit manager: Someone on the digital marketing team will manage and communicate to all team members.
Webmaster: A technical lead will create the inventory, connect APIs and license the necessary tools.
Search engine marketer: An SEO professional who understands and advises on the organic search ranking components of content and the site.
Content owners: Content owners are generally the product managers for each part of the business
Content creators: This team often includes designers and people from HR, and the legal team.
What are the best tools to perform a content inventory?
There are dozens of tools, templates and worksheets available to help perform content audits. First-time auditors will gain many insights from the great book, Content Audits and Inventories, a handbook by Paula Ladenburg Land.
I recommend ScreamingFrog and BigMetrics, both paid tools, combined with Google Analytics and Google Search Console, both free. These tools will arm you with abundant data to create your content inventory.
---
Screaming Frog—connected to 3rd party services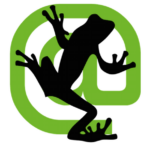 ScreamingFrog is a powerful website crawler that allows you to analyze URLs across an entire domain. It is our favorite SEO tool for identifying technical and on-page content issues affecting organic search. It crawls your entire website returning a list of each and every URL on the domain.
Screaming Frog enables you to get the most complete data by using an API connection to Google Analytics, Search Console and data from external link metrics providers. It's also an awesome tool for competitive research. You'll like this tool when doing competitor analysis. You won't see competitor traffic data, but you'll learn an awful lot about their websites.

PRICE: The company offers a free version for small sites and paid version for larger sites at $200/year (which is a steal).
---
BigMetrics.io—a Google content analysis tool

Organic traffic often drives over 50% of visitors and has the highest conversion rate. Understanding this channel is key to growing traffic. Google rewards "winning sites" with high rankings and a content audit is critical and will help you get the best content in front of visitors.
Google Search Console (GSC) is a primary tool but limits the amount of data to 1K rows so it may not fulfill the content audit needs of robust sites. BigMetrics.io reveals all the data and delivers the ability to:
Analyze on-page data by queries, impressions, clicks, CTR and positions
Segment URLs into content groups for more granular reporting
Review pages contributing to keyword cannibalization
Identify pages with below average CTRs
PRICE: $25/month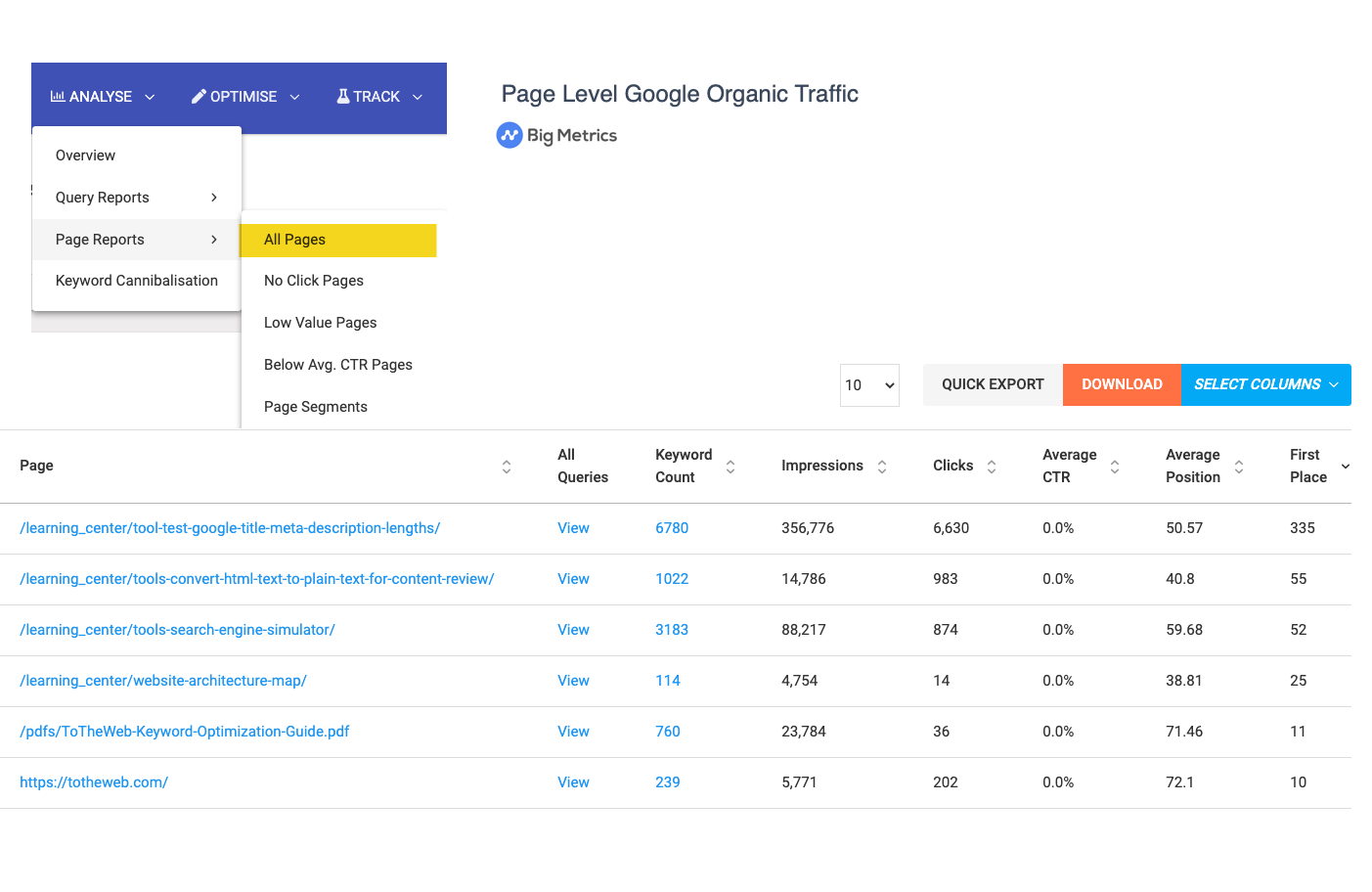 BigMetrics is also a great tool for on-page keyword research. Tip: when setting it up for content audits, set the crawl to "All Pages."
---
A step-by-step workflow to conduct a content audit
This checklist provides the steps to collecting and analyzing your website data in preparation for an audit. → Download our Content Audit and Inventory Example
Step one: crawl the site to take inventory of all URLs
Use ScreamingFrog's SEO spider to crawl your entire website. When setting up your crawl, connect third party services to their API. We recommend starting with the primary (www) version of your site.
APIs available in Screaming Frog (instructional video)
Google Analytics
Google Search Console
PageSpeed Insights (technical data)
Majestic (optional)
Ahrefs (optional)
Moz (optional)
There is other data you can add to the inventory, based on the tools you license. This might include social shares and engagement.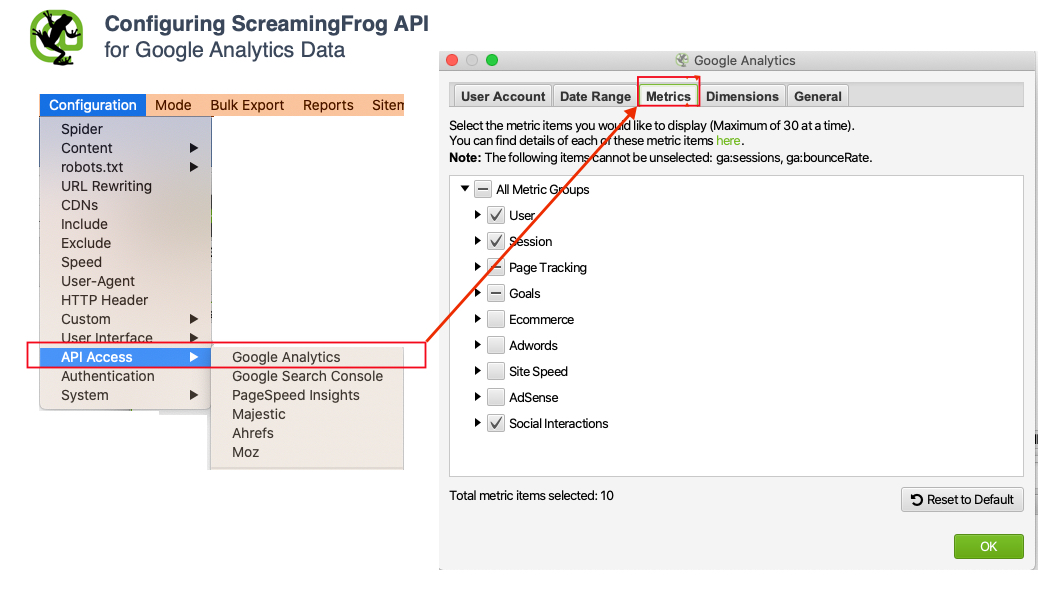 This screen shows the configuration with the Google Analytics API. Select: Config > API Access > Google Analytics.
Configure the spell check and grammar check options
You can also use ScreamingFrog to find exact or near-duplicate content. You can see how useful it is in the example. It shows this URL uses an old name for Google Ads.

Add PDF on-site download data
If event tracking is set up in Google Analytics, run a separate report and merge it with a VLOOKUP script into the inventory. If you have a lot of PDF files and want to understand if they are getting clicked in Google SERPs (something Google Analytics can't track), use Google Search Console and add data for "clicks on PDFs" using a Vlookup).
NOTE: ScreamingFrog offers very useful content to help you master its tools:
User guide
Instructional videos
How to check for duplicate content
Spell & Grammar Check Your Website
Step two: remove low-value pages
Most enterprise companies have no idea how much content they have or how it performs.
Long gone are the days when content marketers abided by the "more is better" mantra. Today, Google ranks each page or post by how well it delivers the best answer for the searcher's query.
If yours is a large site, take a first pass to find and remove low-value, non-performing pages. If your site is massive, you may be eliminating thousands of URLs (thereby decluttering the audit inventory).
Google search traffic is a great indicator of how valuable a piece of content is. Identify and remove all pages that only generated one impression and no clicks.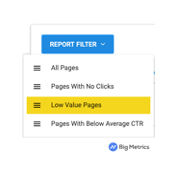 We recommend using BigMetrics "Low Value Pages" report to generate a list of URLs that have received only one Google impression in the previous month. This is a strong indicator the URLs are unlikely to ever do well.
Removing these pages will have no impact on organic traffic since they were not generating traffic from Google.
Allow the pages that you've removed to return a 404 error.
John Mueller of Google says 404 errors are not a sign of having a low-quality website and are a normal part of the web.
There's minimal value in spending time to redirect (301) these pages to another page if the page is not closely related to the original page.
For every URL you remove be sure to update the pages linking to it.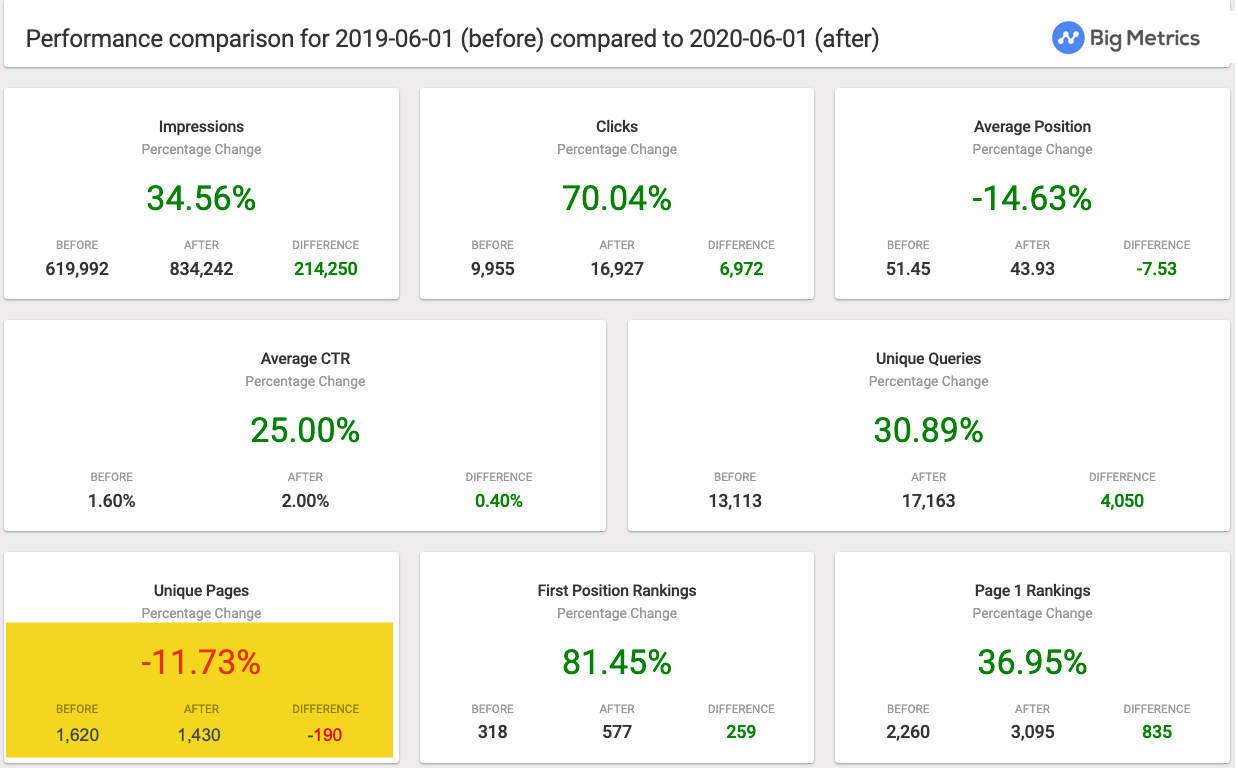 After removing no-value URLs from totheweb.com, a report one year later from BigMetrics shows the overall impact to organic traffic (highlighted above). As you can see, removing 12% of this site's content didn't negatively impact clicks. In fact, clicks and impressions improved year-over-year.
Step three: evaluate no-click pages and mark for review
Use BigMetrics 'No Click Pages' report that lists pages with zero clicks. We don't recommend removing those pages right away because often these pages generate a good volume of impressions and you may be able to improve this content and its search potential. Mark these pages to be reviewed during the audit process.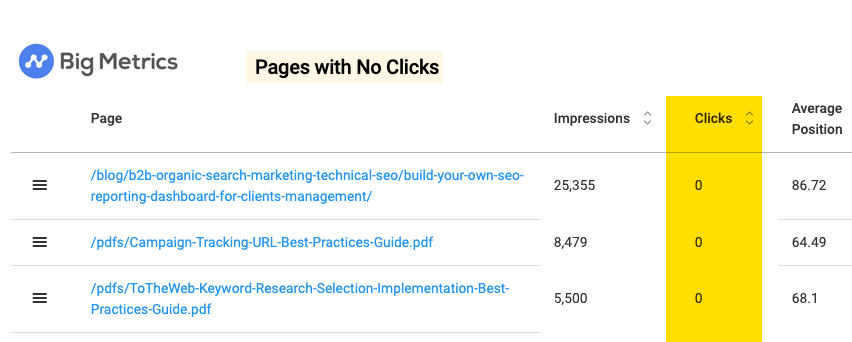 Note: After removing content, update your XML sitemap to ensure the removed URLs are no longer presented to search bots.
Step four: organize the inventory for execution
In this step, a little preparation goes a long way. The audit manager takes the first pass at cleaning up and organizing the inventory spreadsheet for execution by the teams. This person should be an Excel/Pivot Table ninja. HubSpot offers a useful article on creating pivot tables.
We organize the content as follows:
Delete URLs that aren't for audit purposes such as system pages, sitemaps, redirected pages, paginated pages, robot.txt, privacy policy, T&Cs, etc.
Hide columns that team members don't need to see. There will be different aspects for this audit: content review, branding, SEO, technical, etc. You can download our sample file, and then unhide all the columns to see how to use color-coding and numbering to identify column data for execution.
Add columns that apply to your organization in whatever order you prefer. Don't be limited by our list. In our sample file, in tab 2, you will find a description about each column that will be viewable by stakeholders.

URL ID
Business Unit
Content Owner
URL Priority
Buying Cycle or Use
Recommended Action
Notes
Traffic Value
Website Section
Content Format
Language
Proposed Update Frequency
Month for Action
Completed
301 Redirect Location
Download the Content Audit and Inventory Sample
Add drop-down filters for important columns to control the data entered for consistency. See examples in our "Data Validation" tab 3. A good reason to do this is so you can create a useful pivot table of action items for each content owner – tab 4. (Excel Instructions)
Add an auto filter to each column for quick sorting and re-organization of data. (Excel instructions)
Use conditional formatting to highlight data issues such as large file size or low word count. (Excel instructions)
Step five: collaborate with stakeholders
Finally, it's time to involve your content stakeholders, including digital marketers, product managers, SEO, press and HR staff.
Collaboration tools for easy execution
Creating a useful content inventory requires several team members collaborating for months. We highly recommend a cloud-based solution for collaboration.
Meet with the team
We recommend the audit manager meet with each content/stakeholder to review their responsibilities and schedule a bi-weekly follow-up thereafter. Their primary tasks include:
Review the columns shown in green and agreeing or updating the recommended actions, priority and schedule. Companies often have a hard time deleting content they spent resources creating.
Progress with the workflow. There are a variety of people that may be involved: editors, designers, legal, the SEO consultants or the webmaster. When the data is entered, you can create useful pivot tables to see the overall picture for the audit. Otherwise, you'll get messy data that becomes more difficult to decipher.
Download the Content Workflow PDF
It gets easier
Your first content audit will be your hardest. Once the majority of content has been reviewed, retained or removed, the audit process become simpler going forward.
To review, the process should include:
Inventory all URLs on your website.
Organize and prioritize content.
Map to the customer journey.
Collaborate with teams.
Establish actions: keep, refresh, remove.
Repeat – it's easier the next time.
We make content audits painless
Large websites tend to grow messy and inefficient over time. Outdated or low-quality quality content rarely gets any visibility and not only adds bloat to your site, but negatively affects your UX and SEO success.
So, if you haven't done it before, it's time to conduct a content audit to identify these ghost town pages, and then, revise or remove them.
It's content inventory time - start your own audit!
Content Inventory & Audit » Step-by-Step Guide to Running Your 1st Audit